7 Best Book Arbitrage Software Options: Round Up and Review 2022
If you're looking for the best book arbitrage software options, you've come to the right place. In this blog post, we'll take a look at five of the most popular and reliable tools for online book flipping.
Zen Arbitrage, Flipmine, eFlip, Scoutly, Sellzee, Helium 10, and Keepa are all well-respected book arbitrage software tools, and each has its own unique advantages.
In this review roundup, we'll cover the features, prices, and best reason to use each of these tools. Some are for buying and selling online and others are meant to help you find books at local stores to sell online.
However you want to dip your toe into the book flipping business, we've got you covered.
Without further ado, let's look at the best tools to start and grow your bookselling business.
What is Book Arbitrage?
This is a side hustle that takes advantages in the different ways companies price books. There are two ways to do this.
Peruse Used Book Stores
Hit all the thrift stores in your town scanning barcodes to see if any books are worth enough money to buy and then resell on Amazon. This is a great business model and an excellent way to test the waters with buying and reselling used books.
The only problem with this business model is that it's limited by time and location. There are a limited number of thrift stores and used book shops near you and it takes time to visit all of them. You have to visit several times a week looking for new deliveries and manually scanning each one with a phone on your app.
Buy and Sell Online
Some books are mis-priced or mis-listed. Large bookstores will list any book that is returned as "used", even if the book is in mint condition and was never opened. This means there is an opportunity for you to buy a used book and sell a "new" or "like new" book.
You can do this manually by searching amazon for great deals in physical books, but if you really want to grow you'll have to use software to speed up the process. Using the mark 1 eyeball and spreadsheets can get the job done, but you run into that time limitation again.
Learn More About Book Arbitrage
We have a live training explaining this business model, the exact opportunity, and how to get started with your very first book. This is one of the fastest growing side hustles for a very good reason.
The book market is huge and it's expanding. There are approximately 2,700 new books listed on Amazon every single day. The market is expanding faster than we could ever keep up.
What is the Best Book Arbitrage Software?
Choosing the best book arbitrage software can be tricky, as each tool has its own unique set of features and benefits. Here are some tips to help you choose the right tool for your needs:
1. Make sure the software is easy to use. The easier the software is to use, the less time you'll spend trying to figure out how to use it.
2. Make sure the software has all the features you need. Each tool is different, so make sure the one you choose has all the features you need to be successful.
3. Make sure the software is affordable. There's no point in spending a lot of money on software if you're not going to use it often.
4. Make sure the software has good customer support. If you run into any problems with the it, you'll want to be able to get help from the company's customer support team.
5. Make sure the software is compatible with your operating system. Not all software is compatible with all operating systems, so make sure the one you choose is compatible with the operating system you're using.
With these tips in mind, let's take a look at five of the best book flipping software options:
Zen Arbitrage
Jonathan's Take
Zen Arbitrage are the first company to focus specifically on online book arbitrage and they are the first ones with new innovations. While the price might seem a little steep, you should be able to make a profit during the free trial to justify staying on board.
| | |
| --- | --- |
| Best For | Serious Book Flippers |
| Price | $97/mo |
| Discount | Value |
| Promotion | 14-Day Free Trial |
Zen Arbitrage helps you find and purchase low-cost books and sell them for a profit. The software includes a database of over 500 million books, as well as a variety of tools to help you find the best deals.
Once you've found a book you want to purchase, Zen Arbitrage will provide you with a list of vendors who are selling the book for less than its retail price. You can then choose to purchase the book from one of these vendors and ship it to your customer.
Zen Arbitrage also offers a number of features to help you automate your book arbitrage business, including order management, shipping, and payments. With Zen Arbitrage, you can easily find and purchase low-cost books and sell them for a profit.
Zen Arbitrage was built by actual book sellers who found that repurposing other Amazon tools just wasn't cutting the mustard.
Top Features
Real Time Data – pulls data from the Amazon API so you always have up to the minute prices
Full Suite of Tools – includes historical sales charts, trade-in arbitrage, and fast selling book filters
Detailed Training Program – Everything you need from finding your first book to shipping to the Amazon warehouse
More than Amazon – scans more than 40 other websites to find the best opportunities
Pricing
After a 14-day trial, Zen Arbitrage is $97 a month
Final Thoughts on Zen Arbitrage
Do you like books? Do you like making money? Then you'll love Zen Arbitrage. It's the easiest and most profitable way to find cheap books and sell them for a profit online. With Zen Arbitrage, there's no need to spend hours online searching for the best deals.
The software does all the hard work for you, so you can focus on selling those books for a healthy profit. Sign up now and get started making money with your very own book arbitrage business!
Flipmine
Jonathan's Take
Flipmine is our second recommendation for online book arbitrage software. It's quite affordable and gives you access to more than just books. There is a lot of room for growth with this tool.
| | |
| --- | --- |
| Best For | Selling Books and Beyond |
| Price | $39/month |
| Discount | $20 off |
| Promotion | 7-Day Free Trial |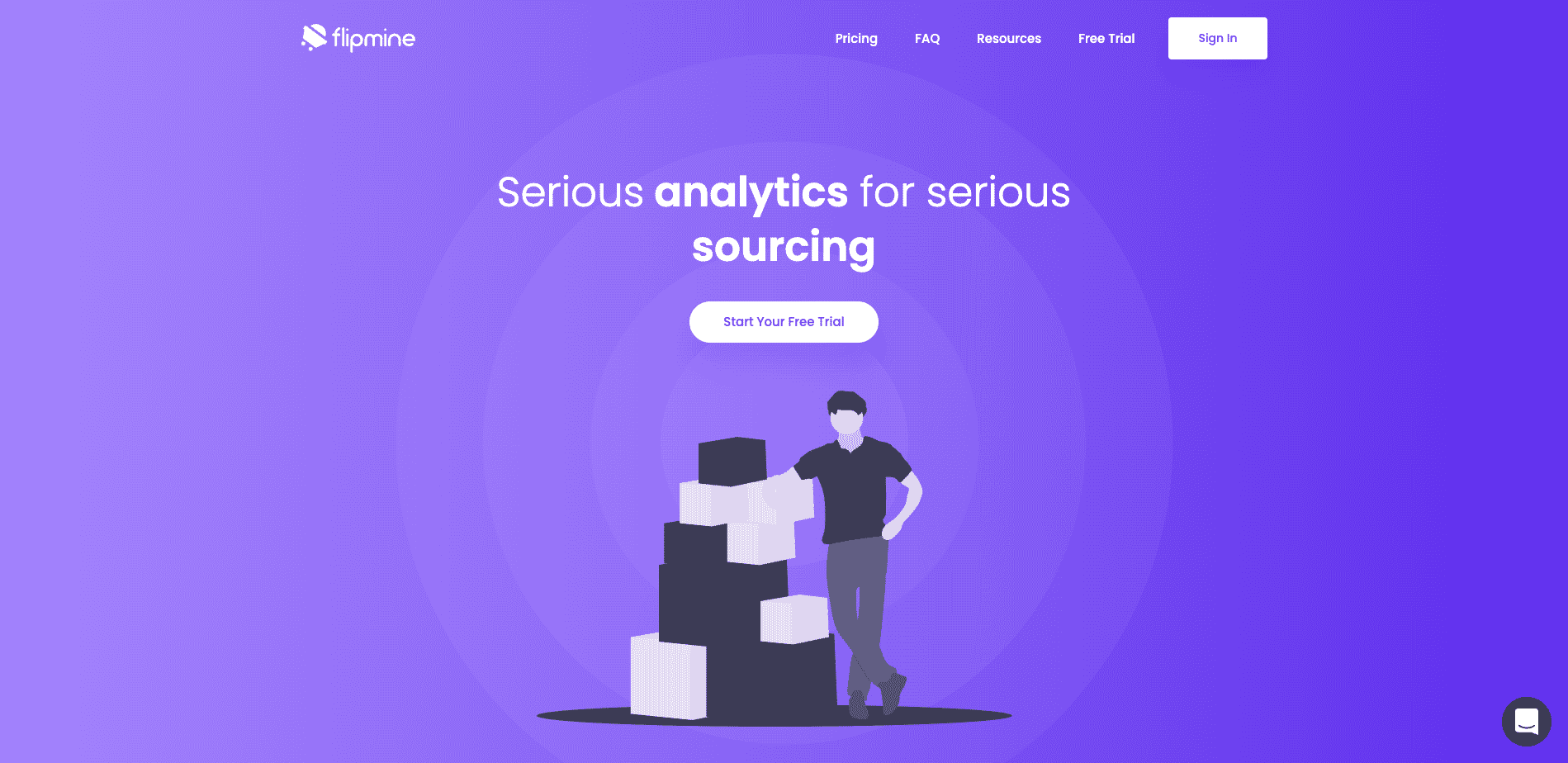 Flipmine is a software tool that helps you arbitrage books, toys and other popular products. It sources for the lowest prices of both new and used books across different online marketplaces, so you can resell them at a profit.
You can also use Flipmine to find private sellers who are willing to sell their books at a discount. The software is easy to use and only takes a few minutes to set up. With Flipmine, you can start earning money from book arbitrage with minimal effort.
Top Features
Find Products Fast – search 2 million live listings for flippable products in 2 seconds
Keep it Simple – focus on the core that matters, finding products to flip
Lighting Speed – filter out products you don't want to sell, such as limiting searches to books only
Pricing
Flipmine is normally $59 a month but it's currently discounted to $39 a month with 7-day free trial.
Final Thoughts on FlipMine
Flipmine is the perfect solution for anyone looking to make some extra cash. With this amazon arbitrage software, you can find products on Amazon that are being sold for a profit and buy them at a lower price from other sellers.
Then, you can sell them on Amazon at a higher price and pocket the difference. It's an easy way to make money without having to do any of the work yourself. With Flipmine, making money has never been easier.
You don't have to worry about finding products or shipping them yourself – they take care of all of that for you. Plus, the software is easy to use so you can start making money right away. Sign up today and get started making money with Flipmine!
eFlip
Jonathan's Take
eFlip is a great choice for buying and selling books. It's a solid tool that might feel natural in your hands. IT's priced in between most of our other options and has a solid feature set.
eFlip helps you to find and exploit arbitrage opportunities in the book market. It does this by scanning online booksellers for price differences, and then calculating the potential profit that can be made by buying books at the lower price and selling them at the higher price.
eFlip also provides a range of other features, such as the ability to track your inventory and sales, and to generate shipping labels.
Top Features
Updated Database – eFlip recommends products to you based on their algorithms so you don't have to come up with search ideas
eFlip University – training for beginners and advanced users to make you profitable fast
Order Tracker – Keep track of all your orders and sales to make sure nothing slips through the cracks
Private Facebook Group – Get amazing advice and support from other experience sellers to help you avoid common mistakes
Pricing
After a 21-day trial, eFlip is just $79 a month
Final Thoughts on eFlip
eFlip is a solid choice for starting an Amazon arbitrage business with a similar feature set to Zen Arbitrage as a more affordiable price.
With this software, you can quickly and easily find books that are being sold for less on other websites and resell them for a profit. You'll be able to make money while sitting at home in your pajamas – it doesn't get much better than that!
Sign up today for a free trial of eFlip and start making money with your own online book arbitrage business!
Scoutly
Jonathan's Take
Scoutly is our top recommendation for retail book arbitrage. This is our favorite Amazon seller scanner app. If you want to scan local bookstores for great arbitrage opportunities, then you need this in your pocket.
| | |
| --- | --- |
| Best For | Finding Books Outside Amazon |
| Price | $9.95-$35 / month |
| Discount | $349 Lifetime |
| Promotion | 30-Day Free Trial |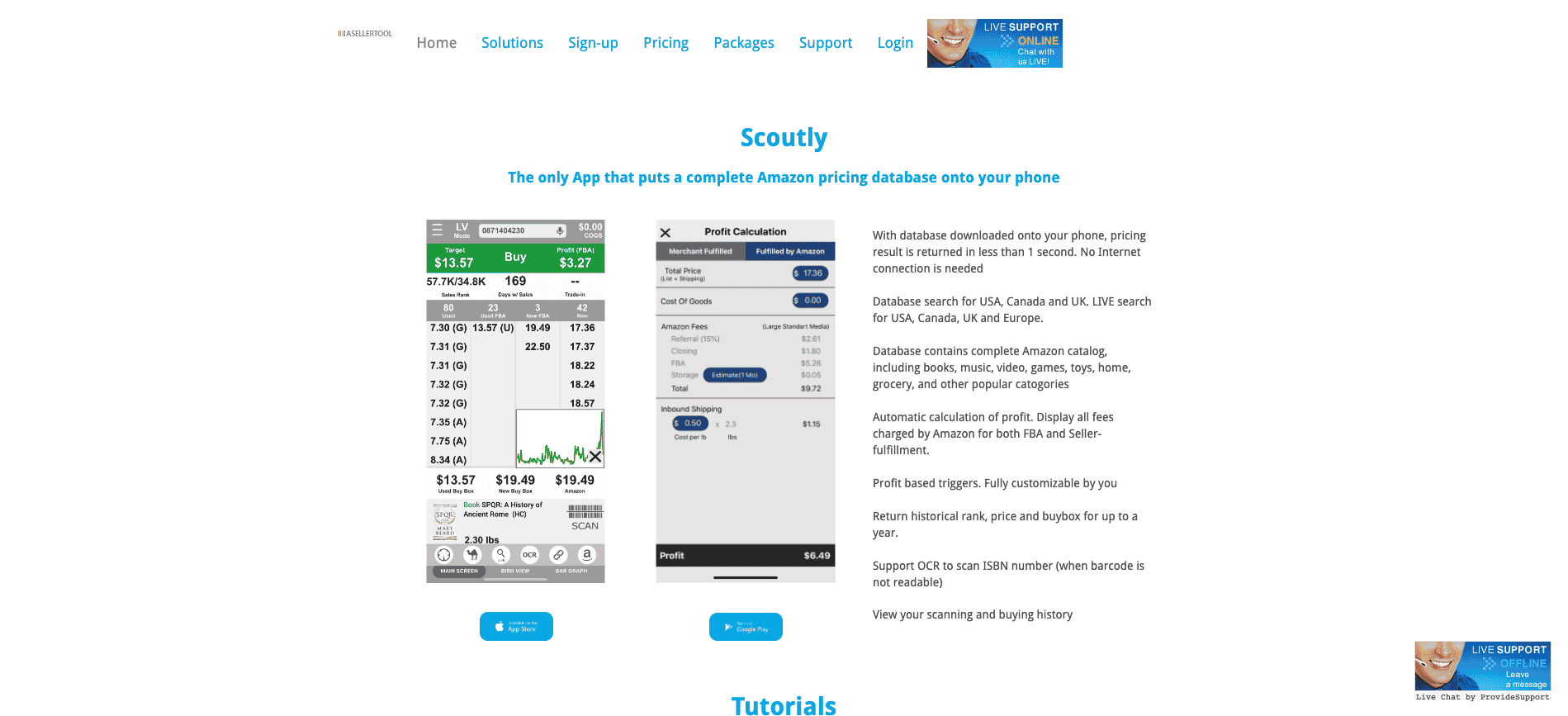 Scoutly is a tool that allows users to scout for books to buy and resell in your local area. The software provides users with information on pricing trends, estimated profit margins, and shipping costs.
This allows users to make informed decisions about which books to purchase and resell.
In addition, Scoutly offers a number of features to help users streamline their book arbitrage business. These features include automatic listing and relisting, order management, and customer support.
top Features
Local Database – Scoutly downloads the entire Amazon database into your phone so you can get fast results even if you're offline
More Than Books – The Scoutly database contains the complete Amazon catalog including toys, books, music, videos, games and other popular categories
Instant Profit Calculator – Scan the barcode and immediately know if the book is worth your time
ISBN Scanner – If the barcode is damaged or missing, Scoutly can scan the copyright page to pull up the correct listing instantly
Pricing
There is a 30-day free trial for the Professional plan and then $35 a month.
Final Thoughts on Scoutly
Scoutly is the perfect tool for anyone looking to get into retail arbitrage. It's an easy to use phone app that makes finding profitable books a breeze. Within a few minutes you can be out scanning for great deals and making a profit from your very first sale.
Scoutly is constantly updated with the latest information so you always have an edge over the competition. Sign up now for a free trial of Scoutly.
Sellzee
Jonathan's Take
Sellzee has two tools, the one that we want to look at is Sellzee Scout. This is a tool made more for retail arbitrage rather than online. This means going to bookstores and scanning books to sell them online. For
| | |
| --- | --- |
| Best For | Finding Books Outside Amazon |
| Price | $11.99-24.99/month |
| Discount | $259.99/year |
| Promotion | 20 Free Scans per Week |
Sellzee is a tool that allows you to find and purchase books from online retailers such as Amazon and Walmart. The Sellzee software then resells the books on your behalf, earning you a profit in the process.
Sellzee takes care of all the shipping and handling, so all you need to do is find the books and set your prices. Sellzee is a great way to earn some extra money, and it's a fun way to get started in the world of online arbitrage.
Top Features
Set Buying Triggers – Set your rules for when a book is worth buying and scan on autopilot
Easy Charts – Quickly see if a product is selling well and track popular categories
Build a Team of Shoppers – Invite shoppers in other areas to shop on your behalf
Powerful ROI Insight – Tracks your true costs and profits to make sure you stay in the green
Pricing
There are three pricing tiers. On the free tier, you get 20 scans per week. Starter plan is $11.99 per month and gives you unlimited scans. Business plan starts at $24.99 per month and gives you 1 shopper for your team.
Annual business plans start at $259.99 and go up as you add more shoppers to your team.
Final Thoughts on Sellzee
Sellzee is the easiest way to make money from your books. They make it easy for you to find books that are selling for more on other websites and then quickly list them on Amazon so you can earn the difference.
With Sellzee, there's no need to spend hours online searching for the best deals. They do all of the hard work for you and list them in one convenient place. That way, you can focus on what you do best – running your business! Sign up today and get started making money with Sellzee!
Helium10

Jonathan's Take
Helium 10 is much more than a book arbitrage tool. It's designed for sellers to sell many of their own products and build large stores, so it may be more powerful than you need if you only want to do book arbitrage. As a tool for book arbitrage, it's overpowered and overpriced.
| | |
| --- | --- |
| Best For | Finding Books Outside Amazon |
| Price | $39-249/month |
| Discount | 25% Annual Discount |
| Promotion | 7-Day Refund Policy |
Helium 10 helps you find profitable products to resell on Amazon. This tool is designed to help you source, track, and manage your arbitrage business quickly and easily.
Helium10 offers a variety of features to help you succeed as an Amazon seller, including sourcing tools, price monitoring, and a profit calculator. If you're looking for a comprehensive tool to help you make selling on Amazon, Helium10 is an excellent choice.
Top Features
Lightning Database – 450million ASINs to quickly validate a product
Keyword Research – find keyword opportunities to boost product sales
Listing Generator – write a listing for your product that ranks and generates sales
Real Time Monitoring – track your products, seller account and reviews all in one dashboard
Pricing
Helium 10 starts at $39 a month and there is a 25% annual discount.
Final Thoughts on Helium 10
Helium 10 is the perfect tool for anyone who wants to start making money on Amazon. It's easy to use and it can help you find products that are selling well on Amazon so you can make a profit.
With Helium 10, you can quickly and easily find products that are selling for less than they should be. This means you can buy them at a low price and sell them for more on Amazon – which means more profits for you. Sign up today for a free trial of Helium 10. You won't regret it.
Keepa
Our Take
Keepa is a price tracker that gives you historical sales data right in your browser. This is ideal for textbooks that you can buy for cheap at the end of semester and sell for a premium at the start of the next semester.
| | |
| --- | --- |
| Best For | Textbook Flippers |
| Price | Free/19 Euros a month |
| Discount | 189 Euros / year |
| Promotion | Free Tier |
Keepa is a software tool that helps online sellers find profitable books to sell on Amazon. Keepa's database contains over 150 million Amazon listings, and the software uses this data to track prices, identify trends, and find arbitrage opportunities.
Keepa also provides tools for analyzing Amazon fees, listing products on Amazon, and monitoring sales. Keepa is a powerful tool for anyone looking to get into the book arbitrage business, and it is one of the most popular options available.
Top Features
Browser Extensions – Find data while your perusing Amazon without a secondary tool
Deep spreadsheets – if you like working spreadsheets then this is your dream product
Pricing
Keepa comes with a lot of amazing feature at the free tier, for 17 euros a month you get access to Premium Data which finds a lot more products.
Final Thoughts on Keepa
Keepa is the world's most popular Amazon price tracking tool. It helps sellers make more money by identifying profitable arbitrage opportunities and alerting them when prices change.
With Keepa, you can rest assured that you are getting the best deals on Amazon possible. They monitor millions of products so that you don't have to, and their powerful alerts system will keep you in the know when a good deal pops up. Sign up for a free trial of Keepa today!
What Are Book Arbitrage Software Tools?
They are tool that helps business owners and entrepreneurs find deals on books online. The main function is to help you determind if you should buy a book and put it up for resale on Amazon. It will factor in sales trajectory, price, fees and shipping costs to ensure that you only grab books with solid profit margins.
Some of these tools also allow users to track prices and inventory, and to process orders.
FAQ
Is Book arbitrage profitable?
The short answer is yes, book arbitrage can be profitable. As long as you keep track of your shipping costs, fees and taxes when chosing which books to flip, this can be a very lucrative side hustle.
How do I find Profitable books to flip on Amazon?
Keep an eye out for book sales. You can often find deeply discounted books at garage sales, library sales, and online. Use scanning software to track the price difference on Amazon to see if each book will be profitable.
What is online arbitrage?
Online arbitrage is the process of buying products from one online platform and selling them for more money on another online platform. Sometimes this involved buying a underpriced product on Amazon and relisting it at a higher price.
A seller might purchase items from a wholesaler or liquidation site and then sell them individually on an online marketplace such as eBay or Amazon. By capitalizing on differences in price between platforms, arbitrageurs can earn a profit with little risk or overhead.
Because this side hustle requires only a computer and an internet connection, it is a popular option for entrepreneurs who are looking to start their own business with minimal startup costs. While there some competition, there are so many products on Amazon that the market is still wide open.
What are the benefits of book arbitrage software?
By using software to findlow-priced books and then reselling them at a higher price, you can quickly and easily turn a profit.
In addition, book arbitrage software can help you to automate the process of book arbitrage, making it even easier to generate a return.
Book arbitrage software can also provide you with valuable insights into the marketplace, allowing you to make more informed decisions about pricing and inventory.
Final Thoughts on Online Book Arbitrage Software
Trying to run a book arbitrage business using spreadsheets and head math is difficult. The main benefit of switching to software is the increase in accuracy and speed. You can grow your Amazon business when you can analyze more books in less time.
We've listed our favorite tools for finding geat opportunities online as well as tools for scanning in your local book stores and thrift shops. Either method is a great way to start your first side hustle and I can't wait to hear about your success selling books with Amazon FBA.
We area always looking to update and improve our reviews with more data. Share your experience with these tools in the comments below and if we've missed on, please let use know!