No matter how many ideas you got going on, you need to connect them. Turning those concepts and flits of ideas into a finished product requires a plan of action.
Traditional note-taking often gets messy and you regularly risk spilling coffee or juice on top of your brand new highlighted notes. It happened to me, so I know. That means going through the entire process again. If you remember exactly what you wrote, that is.
Outlines and outliner apps are what you need here. They are the blueprint of what you want to create. Outlines are mapped out hierarchically – you have a visual contrast between the key points and the subsidiary (sideline) ones.
Some of the best outliner apps and outlining software available are:
Scrivener
Xmind
OmniOutliner
CloudOutliner
Checkvist
Little Outliner

Read my full review for more in-depth details on the best outliner software.
What Does An Outliner App Do?
An outliner organizes your ideas by topic and creates a tree of hierarchy nodes like a base to the structure of written content, thus outlining the future writing piece in the making. The best outline tools are those that make it easy to arrange your arguments, your log ideas, and pull it all together into the framework of your book.
While you can create an outline using a pen and paper, specialty outliner apps can give you better functionality and flexibility so you can reorganize or change things on the fly.
How do you use an outliner
Generally, outliners are used in content creation because they're ideal for organizing ideas, facts, and list management. Many use them for goal and task management, project management, and writing books. You can use them to store information with terms, phrases, sentences, or paragraphs attached to a tree. This way you store information by topic.
What are some of the best outline tools and apps you can use in the process? How can you take your skills to the next level and become the writer of your dreams? 
I know these questions bounce in your head, so without further ado, check out the magic work of the best outliner tools we've put together for you, and put your next creation in order:
Best Outliner App By Device?
Mac Outliners:
Scrivener
I use Scrivener like 90% of the time. Scrivener is your typewriter, your scrapbook, and your ring binder. It's highly popular in the book-writing world because you can break down hard-to-organize projects and large projects into different files. Plus, the interface is easy to use, allowing you to arrange sections, map out ideas, and combine them into a single, large file.
There are a variety of modes, but the outliner one is what you're probably going to use most. You can see the files of your collection and you can also create multiple collections. You can also add documents to the folders. This makes it easier to stay organized. Move them around, edit the summaries or titles, view word counts, and much more. It's basically like a flexible table of contents. It's one of the best freelance writing apps I've worked with.
The price for this outline story writing software is $45 for Mac. The best part about Scrivener is that it's a one-time purchase, so if you buy it once, you are good to go. 
Xmind
XMind offers you a free basic program. It's a great outliner app I've used that maps out your thoughts and captures ideas. It's great for team collaboration and complex information processing.
You can brainstorm using XMind and there are many templates to choose from. There are keyboard shortcuts too, and XMind allows you easy access to everything. Their interface is easy to learn.
I am a fan of XMind as well – I've used it for a lot of my products and above you can see the tree outline for one of my projects.
OmniOutliner
For those who only use Apple products, OmniOutliner is ideal because it works on Mac and iOS systems. Plus, if you need a very detailed outline, this the best tool for you. I know because I've also used OmniOutliner.
 It looks like a basic word processor, but there are many things to investigate. The formatting, the styles, and the display menus can help you customize almost anything. You have full control using this outliner app, even how much space you need between the rows. Set up the template as you like it, then save it if you want to access it at a later point.
OmniOutliner offers a one time purchase for $50.
CloudOutliner

If you need a story outline software for Mac and iOS, then Cloud Outliner might be ideal. It can sync with any Apple device, as well as Evernote accounts. Therefore, you can start the outline on a laptop, add notes from your phone, and then rearrange it all on your iPad. Outlines are collapsible, so you can easily view them on smaller screens. Swiping left or right from a tablet or phone can indent or out-dent the lines.
You have a two-pane view and customizable templates and shortcuts. This story outline software features drag-and-drop rearranging, automatic numbering, and a variety of text styles. It's also possible to work in landscape or full-screen mode and change to light or dark interfaces.
Cloud Outliner offers a free program.
Web-based Outliners
Checkvist
You One of the best outliner apps we found was Checkvist. It is best for simpler outlining needs and is only available as a web application. However, its goal is to keep hands on the keyboard by utilizing keyboard shortcuts.
You can press the enter button to create a new line and the tab button indents. If you hit the shift and tab button together, it un-indents the line. The dashboard includes the keyboard shortcut guide as a quick reference.
It's incredibly easy to rearrange your points, order the outline, and manage everything. You can drag and drop nodes by holding the shift key and then moving them where you need them to be.
If you find that your list gets bloated, you can export various nodes to their own lists. Plus, you can automatically sort your sub-items within the node, or assign a node a particular color or tag for easy reference later.
Checkvist comes with a free basic plan.
Little Outliner
If you're new at this thing, you may want something that's free to use and contains all the features. With this outline story writing software, you get just that. It's a web-based app, it's lightweight, and it saves the outline to your desktop or another location on the computer.
The learning curve here is almost nil because it works just like many document creators. Just type to add text and hit enter to make a new bullet. With the tab button, you indent the line, but you can also create multiple indentations throughout your work.
You may also collapse bullets by double-clicking them and then doing that again if you want to re-expand. It's a little more challenging to rearrange your bullets, but once you get the hang of it, things go faster.
The thing about Little Outliner is that you can only store a single outline at once, but on the upside, it's free, so there's that. 
Workflowy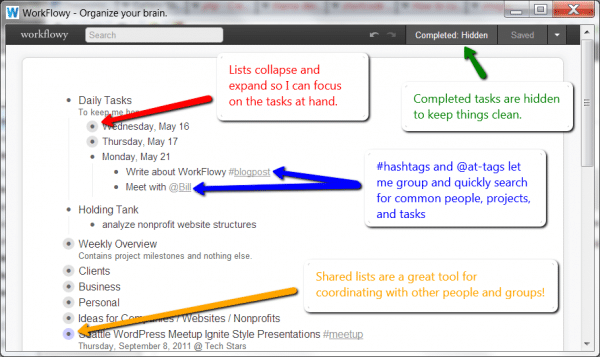 If you want to focus primarily on one part of the outline, then Workflowy is your cup of tea. It's a web-based app and is also available on Android and iOS systems.
This product is ideal if you're working on something complex. It offers a zoom feature, allowing you to see a particular bullet and its sub-bullets separately. Zoom out anytime to see the whole outline by clicking the home icon.
To make it easier to organize notes, you can use the hashtag symbol to create tags. For example, using the tag '#more' can indicate that you want to add more details later. You can search by hashtags and find what you need quicker.
It is free to use for up to 100 items a month. 
Toodledo
If you're looking for a web-based outliner app that can also be accessed from Android and iOS devices, you are looking for Toodledo. It provides automatic syncing and wide note space. 
Toodledo is quite limited in functionality. Still, you can tag the outlines, you have folders, and a due date and alarm to remind you of what you're supposed to do. Toodledo is the best thing to have around if you want to focus more on what matters: the ideas and how to arrange them instead of dealing with tons of settings, interface setup, and learning many commands. 
This app is free and offers 30 items for each outline. 
CarbonFin
Those who often want to add notes to their outlines are going to like CarbonFin. It works both as a web-based app and on iOS systems. Most apps don't allow you to add notes for each row, numeral, or bullet point. Some people may not realize how useful this is.
Your outline will get lengthy and too detailed when you list every single bit. Pushing all those bits into notes can make everything streamlined and less cluttered.
You get a small preview of the notes to remind you that there is more information to deal with. You can turn off the feature, however, and you can also hide everything except your headings if you want to get a bird's-eye view on your outline. Smooth, right?
Additionally, if you work on a single section at a time, you can use the zoom button to highlight specific texts and remove the rest of the outline until you're done and zoom out.
This story outline software is $4.99 per month.
Windows Outliners
OneNote
 Are your notes all over the place? With Microsoft OneNote you can add images and quotes to related content, add notes in the middle of your page, and rearrange everything as needed.
Plus, it features a built-in icon bank, so you can leave yourself visual clues, such as 'client request' or 'remember this for the blog.' It's also possible to customize the size, font, style, and color to make things more visually appealing.
Everything automatically syncs to OneDrive, which is the cloud storage option for Microsoft. Therefore, all you require is an internet connection, and you can reference your outline anywhere.
Microsoft OneNote is free as well. Knock yourself out. 
UV Outliner
UV Outliner is a story outline software free that people in favor of uni-tasking will especially like. It has a one-pane view. If you have a Windows OS, you can use this app. It works well if you have a lot of sections and need to work only on one or two at a time.
The plain layout and appearance help you stay focused on the outline. Plus, there are two modes, so you can easily move things around or enter text. You can also move specific sections or chunks of text into a separate window.
Outliner Apps Buying Guide
Outlines are just bullet points with structure. They are your list of ideas to write about and they map out what you want to say. You don't need fancy tools, as Notepad or a word processor program could do what you need.
However, using outliner apps i.e. story outline software can make it easier to concentrate on a particular idea and it offers more options to satisfy all your writing needs.
Whether you are buying a story outline software or using a free one, make sure it has most if not all of these functions:
Parent items
The app you choose should let you create some parent items, and each of those points should have unlimited things beneath them. Therefore, when you do something to the parent point, such as moving, indenting, or out-denting it, the same changes should be applied to whatever is below.
Visual Hierarchy
Your outline will quickly lose its value if you can't tell the differences between your leading idea and all the supporting ones. This is how outliner apps help you out; they visually distinguish between the outline sections.
Easy Rearrangements
You've got seemingly endless things to consider and you want to move points and ideas around to make things flow. Outliner apps allow for drag-and-drop methods to shift things to where they need to be, which is more efficient than the good old copy and paste technique.
Automatic Styling
Outliner apps are great for formatting. When your ideas appear with Roman numerals, bullets, indentations, and numbers, you're not wasting precious time manually inserting the format you desire – you have it already created by the outline tool you use.
These are the basics included in every story outline software free. Paid products usually provide bonus features you may also find useful.
For example, if your outline is going to be very detailed and long, a filter and search function will come in handy. Plus, with some outliner apps, you can search through all the outlines at once, which makes it easier to see what you've written and where.
[optin-monster slug="i0l7ur2rs8f3gamagex6″]
You may want to include more information for a particular bullet point, but you don't necessarily want to see it each time. Some apps allow you to attach hidden text so that the outline isn't cluttered. Consider apps where you can add side-bar or pop-up comments about specific points.
What happens if you just want to focus on a particular section? Can you temporarily hide the others? With some story outline software, you have collapse and expand functions, and you can fold other parts down to look at something specific in the window.
Similar to the search functionality, you can tag certain points with a keyword so it's easier to find them later.
Outliner Apps vs. Word Processors
Outline tools are specialized word processors. So, with text editing and management, the outliner tools will help you organize your content, tasks, books, etc. While a word processor, on the other hand, will help you with content management and editing.
Paid vs. Free Outliner Apps 
Price is an important factor when choosing an outliner app, so here's a list of all the free vs. paid tools – kind of like a short summary to ease up the process for you:
Free Apps
XMind
Little Outliner
Cloud Outliner
UV Outliner
Workflowy
Checkvist
Toodledo
Microsoft OneNote
Paid Apps
Scrivener (one-time purchase for Mac $50/$19.99 for Windows)
OmniOutliner (one-time purchase $45)
CarbonFin ($4.99 per month)
Conclusion
For most people, the act of building an outline is something they do manually because they have to decide the most logical way to structure and organize ideas, but nowadays, you can be automated all that with the right tools and integrations.
There is a variety of outliner apps available to consider. Though Notepad might work as well, these apps go far beyond that and allow you to be more creative.
The list we've put together for you includes the best outliners and note-takers because if you want to become a best-selling author, you need to use such tools and you need the right strategy.
Joining the team of best-selling authors doesn't necessarily require talent; it requires hard work and the right guide beside you.
So, download our free writing whisperer and get inside the craft and mastery of writing today!