It's good for your main site performance since tons of loading is done away from it. You can sell your products, build your website, conduct your webinars, and stretch your experience with affiliate marketing and integrations. Design is fresh and unique with frequent updates, fast page loading, and a team of experts. 
This is my in-depth GrooveFunnels review based on my personal experience built upon years of doing digital marketing. What I've battled during all those years, and subsequently my team as SNM grew, is to have all the tools needed to build, execute, track, and followup our campaigns under one umbrella. It might seem simple when you're just starting out, but eventually building several funnels a week just for one channel can be a daunting task if you want it to have an easy flow and less friction.
Putting your lead pages and running campaigns is beneficial and complicated at the same time.
Make sure you read my GrooveFunnels review to learn all the bits and pieces to digital marketing and its little magic helper. I have tons of things to show you, so let's start grooving!
Table of Contents:
What Is GrooveFunnels
GrooveFunnels is a digital marketing platform that allows you to sell your digital products. Entrepreneurs have access to an all-in-one platform that has all the apps and tools needed for an online business and the successful selling of your products.
Who Is Behind GrooveFunnels?
GrooveDigital is the parent company of GrooveApps. It appeared on the market along with the eCommerce print-on-demand and drop-shipping platform GrooveKart. The company wanted to expand and revolutionize its old ways of working, so they took things and came up with what it's now GrooveFunnels.
The original name of the company was GrooveApps. The platform was always meant to be called GrooveFunnels, but the creators could not get hold of the domain, so they named the brand GrooveApps. However, now the brand is coming to its original name and GroovyApps is hitting retirement.
For those of you interested, Mike Filsaime, John Cornetta, Mattijs Naus, and Matt Serralta are the co-founders of the company. All four of them have a thick digital marketing background making GrooveFunnels a true powerhouse.
GrooveFunnels Tools In Practice
This GrooveFunnels review cannot be complete unless I introduce you to the magic of this all-in-one funnel builder. The thing about it is that not all the features have been launched yet, but GrooveSell, GroovePages, and GrooveAffiliate are already put into motion.
As mentioned before, GrooveFunnels is packed with opportunities for everyone, it's like a buffet. It has it all – all the best and most affordable tools to run your online business, so let me go through the features included in GrooveFunnels one by one, so you get the idea of what I am talking about.
GrooveSell
GrooveSell is the sales platform, the shopping cart option. You will not be charged to sell products, you'll pay a fee for taking payments only (which is what everybody does), but other than that you'll have no additional costs. You can sell digital not physical products here like training and coaching, courses, PDFs, or ebooks. It allows you to create your product, the upsells, and the downfalls, same as adding your check out pages.
It offers an affiliate program too, where affiliates can promote your products. It's like a replacement for ClickBank, PayKickStart, JvZoo, and WarriorPlus and there is no limit to how many affiliates you can have. The more the merrier, basically.
GroovePages
GroovePages is like that 3 in 1 coffee, only better.  It includes a landing page, a funnel builder, and a website all in one. You get to create all these things from scratch using robust software written in JavaScript called Vue.js.
You can publish your site on HTML, thus significantly reducing the loading time, plus you can boost your SEO big time and it has free hosting.
GroovePages offers you Amazon hosting servers and if you want to enhance your Google ranking well, worry no more! GroovePages has mobile-first indexing, and it's the first of its kind.
GrooveAffiliate
Similar to JvZoo, PayKickStart, WarriorPlus, and ClickBank, this platform offers advanced affiliate management. Other affiliates can promote your products and you can check your commissions, clicks and likes, amounts, and refunds.
GrooveAffiliate is very easy to navigate, and it's free to use. It's a great marketplace where you can sell and promote your digital products with the help of affiliates.
GrooveFunnels Review: Complementary Products
GrooveMail
Your Groove lifetime online software has to have an email because what are entrepreneurs without an email, am I right? GrooveMail is an e-mail autoresponder much like MailChimp, InfusionSoft, and Getresponse. Emails come with a template you can use, but there is also tagging and behavioral-based email marketing.
For example, if a person sees a page, based on the page, you can send that specific mail you want or send a message based on the webinar that's being held. You also get voice broadcasting, so visitors can get a voice blast while being on a certain page.
The thing about GrooveMail is it comes with a paid plan only. No matter what plan you have, you get to mail 25,000 contacts for FREE.
GrooveMail will be released in July 2020.
GrooveMember
Next on my GrooveFunnels review list is GrooveMember. This is a membership platform that will work on GrooveSell and GrooveAffiliate. It is a content management system that will deliver your content to a lockdown members' area.
You can drag and drop to publish, you can come up with your own themes, drip content, and create free or paid accounts.
GrooveMember will be available from July 2020.
GrooveVideo
Next on my GrooveFunnels review is GrooveVideo. It is the new Vimeo or Wistia. It is kind of like your platinum version of these two apps. Thanks to its advanced features, you can upload your own videos, you can see your analytics, do split test videos, maneuver the player's controls and skins, and modify the thumbnail.
GrooveVideo is a video hosting app that integrates with the other tools. You can do tagging and see who engaged further within your funnel, who say, took the freebie and stopped there.
GrooveVideo is available from July 2020.
GrooveCalendar
Are you stuffed with appointments and barely keep track of when you should be in one? GrooveFunnels is making the following happen: calendar creation for setting up your meetings and appointments, your coaching sessions, and booked slots and consultations where people can talk to you and ask you questions.
The fun part about it is that it's integrated with GrooveMail, so you can set automatic emails, reminders, or follow-up sequences.
GrooveCalendar is coming 2021, so we should know more by then.
GrooveBlog
Where are my fellow writers at? You will absolutely love this. You can create your own blogs, WordPress style. GrooveFunnels offers a convenient, practical, and easy-to-use tool for all those in love with writing.
GrooveBlog will offer you unparalleled SEO and while there is more information needed, we will have to wait a little longer. GrooveBlog is out by the end of 2020 and as Mike Filsaime says, it'll make you want to ditch WordPress and go with GrooveBlog. A bold statement for sure, but so far, this sounds very promising.
GrooveDesk
This built-in help desk system will offer you a highly sophisticated ticketing feature, which will help you manage issues and tickets coming your way faster a lot easier.
You also have a live chat and a multiple users feature. It is said that GrooveDeks will be upgraded, so it'll do a lot more than its previous version in GrooveApps.
GrooveDesk will be released at the end of 2020.
GrooveSurvey/GrooveQuiz
These 2 features are integrated within this Groove lifetime online software and as such, they allow you to create endless surveys and quizzes for your landing pages, websites, and funnels. Surveys and quizzes snowball your mailing lists, and that's why they are extremely important.
GrooveFunnels' powerhouse will have these two features from 2021, so more on them when the time comes closer.
GrooveKart
Do you want to expand your opportunities and business? If you want to sell more than just digital products, well, there you have it. GrooveFunnels' GrooveKart is Shopify's alternative.
You can sell physical products here, it's your marketplace, your own online sales platform that comes charged with outstanding features. Retargeting, analytics, bumps and timers, social proof, and funnels for sure! It isn't new; it existed as part of GrooveApps.
The only difference now is that it's NOT part of the GooveFunnels, but you can get it as a bonus if you've purchased the GrooveFunnels' Platinum lifetime program starting this June.
GrooveWebinars
GrooveFunnels is making yet another incredible feature happen. Basically, your GrooveWebinars tool will have automated and live webinar platforms that you can use.
The platform will be much like EverWebinar and StealthWebinar only upgraded, better, and more affordable.
You will have templates to choose from, but you can edit them to fit your needs. You will get customizable templates, you can add your header and footer, you can add a calendar and choose the time, style your logo, and design your own terms of service.
GrooveWebinars will be released at the end of 2020, but you can get it only if you have the platinum plan. And with a good reason!
GroovePages For Shopify
GroovePages for Shopify (just like the name suggests) will be available on Shopify.
This is GroovePages made specifically for Shopify's eCommerce platform, and it will sell in the Shopify app for $49 a month.
You can style and design your funnel pages, upsell pages, check out pages, and site pages. Included in your lifetime option, a true gem in the making!
GrooveFunnels Pricing
Due to COVID-19 guys from GrooveFunnels have made a decision to offer a Silver plan $99/m for FREE.
My GrooveFunnels review wouldn't be complete without the pricing because price matters when making a choice. You want to get value, not something that's fancy or popular, but useless or full of glitches.
GrooveFunnels offers its users several options: GrooveFunnels Free i.e. Base Plan, GrooveFunnels Silver Plan, GrooveFunnels Gold Plan, and GrooveFunnels Platinum Plan.
GrooveFunnels Free Plan
Their basic, free plan will give you free access to a lite version of GrooveSell, GroovePages, and GrooveAffiliate. Using these platforms as part of the free funnel, you can create 3 free accounts, promote your products and so much more like checkout pages/buttons, landing pages, sales funnels, product pages, and whatnot.
Also, you are allowed to have 3 new domains.
GrooveFunnels Silver Plan ($99/Month)
By paying $$99 a month, you get access to the following features:
GrooveSell
GroovePages PRO
GrooveAffiliate
GrooveMail
GrooveMember
GrooveVideo
GrooveFunnels Gold Plan ($199/Month)
GrooveSell
GroovePages PRO
GrooveAffiliate
GrooveMail
GrooveMember
GrooveVideo
GrooveDesk
GrooveCalendar
Groove Survey/GrooveQuiz
So you get 4 extra features apart from the ones you can get with the silver plan.
GrooveFunnels Platinum Plan ($299/Month)
The Platinum version has it all. It gives you full access. You'll get everything from the gold plan and more:
GrooveSell
GroovePages PRO
GrooveAffiliate
GrooveMail
GrooveMember
GrooveVideo
GrooveDesk
GrooveCalendar
Groove Survey/GrooveQuiz
GrooveWebinars Live
GrooveWebinars Automated
GroovePages for Shopify
GrooveKart
Keep in mind that GrooveKart comes only with the Platinum Lifetime Plan, which closed June 2020. Now, what's the Platinum Lifetime Plan, you may ask?
It's the opportunity to buy the whole suite and get everything at a one-time price: all the updates and upgrades in the future. If you are in now, you are in for good. They will never ask for your credit card. The offer expired by the end of June with the official launch of the platform. This was the deal:
First, you don't pay anything 14 days to test the product, see if it works for you. If it does:
Pay $497 for 3 months, that's total of $1491
Pay $288 for 6 months, that's total of $1728
Pay $188 for 12 months, that's total of $2256
How very generous, right? With the lifetime option, you get so save up so much in the long run, so if you took the offer and you're reading this – well done! That's some smart decision making right out the gate.
GrooveFunnels Review Pros And Cons
Pros
Let's start with the technology first. The robust and cutting-edge technology is revolutionizing digital marketing; it's taking it by storm. It's fresh, it's new, it's modern, it's beastly! Apart from the fact that groove's lifetime online software has a bold and advanced user interface, and the design is smashing too.
But don't let yourself be fooled by the killer technology because it's super easy to navigate. You don't have to spend a lot of time learning the interface, it's user-friendly. You have an email autoresponder to do a lot of the things for you. You have it all in one – every possible app you could ever need for your online business to thrive and the easy breezy learning curve.
Also, they have a free partner program and a free base plan if you cannot afford to buy the more expensive plans. Their free funnel/free plan offers you much more than the essentials, and it's not at all limited. GrooveFunnels also has reporting, split testing, mobile-first indexing, so your pages will load super fast, affiliate programs, and integrations. Oh, and free hosting for GroovePages! Not to be overlooked.
Because GrooveFunnels is an all-in-one platform, you pay at once and you get everything. You don't have to go through several payment processes every month for all the different apps you use. It's just one transaction and you don't have to switch between services. You already have the best.
I mean, it's much better to pay one price for everything than different prices for different services – at a different time. When you calculate, you might even pay more that way, which is why it's better to have one provider.
Websites built on GrooveFunnels will be SEO friendly, which is good for your rankings.
And the team. Oh, boy! They all have a relevant background and years and years of experience. Mike Filsaime together with the other co-founders know what they are doing because it's not their first project of this kind, so your business will be in safe hands. You have a solid support system to guide you along with your onboarding because you'll be dealing with a technology that's first of its kind.
Cons
Some apps are not to be released by 2021, so that might be a bit of a bummer. The long wait for some apps you may really need right now can be discouraging. Also, the gold and the platinum plans may be pretty expensive for some people despite the fact that the value is there, no one's denying it.
GrooveFunnels Alternatives
It's hard to master the unparalleled functionality and diversity of GrooveFunnels, but my GrooveFunnels review wouldn't be as valuable if I do not present you with all the other platforms that exist out there.
Truth is, there is nothing like GrooveFunnels, but there are similar platforms that scope most of what GrooveFunnels offers. They are Builderall, Kartra, and ClickFunnels.
GrooveFunnels vs Builderall
Pros:
The essential plan is $29.90, while the premium one is $69.90, so Builderall is cheaper than GrooveFunnels. It has a library of tutorials, and there are a Builderall Facebook group and a Youtube channel for your assistance.
They also have frequent tools updating, which means their team is constantly working on improving user experience. Builderall offers a variety of tools too, like mobile app creator, Instagram automation tools, Facebook chatbot, mockup studio, and photo editors. You get an integrated marketplace and an affiliate program too.
Cons:
Builderall has a steep learning curve and does not provide live chat support.
GrooveFunnels vs Kartra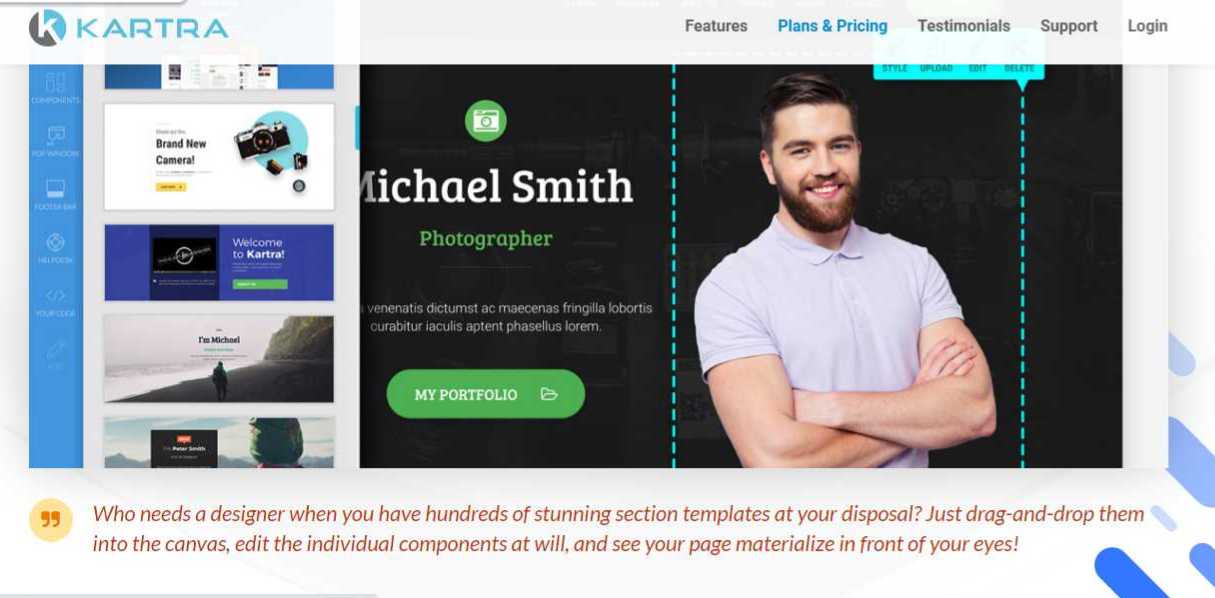 Pros:
Kartra offers pretty much the same as GrooveFunnels: calendar, helpdesk, membership sites, affiliate programs, leads, agency features, and custom coding and integrations. It's like a color palette – it offers many features and it's rather functional in that aspect.
Another thing you will love is the integrated templates. You can share websites with complete email integration and automation. You don't have to bother copying a page and getting broken links.
Cons:
Despite the high functionality, when it comes to design those colors on the palette are starting to fade away; Kartra has a pretty outdated design, and it is hard to use. The many options and features can overwhelm you, which means before starting to work with their interface you must hit the books.
Kartra does not offer webinars, multiple live users, and there is no mobile-first indexing either.
Mike Filsaime co-founded Kartra and has reported that it cannot be compared to GrooveFunnels' groundbreaking technology.
GrooveFunnels vs ClickFunnels
Pros:
Their sales funnel. It's highly functional and their best feature. ClickFunnels has shifted the focus on their main feature, so it can only get better with time as they upgrade it. ClickFunnels allows you a 14-day free trial too, which is great.
Cons:
ClickFunnels is leaving Actionetics, Actionetics MD, and Backpack behind, so they'll get no upgrades.  At least not in the foreseeable future.
There is no video hosting and no email autoresponder. For me personally, the annoying thing is not being able to search through my funnels effectively. SNM usually has more than 20 active funnels all listed and divided into categories, but getting to the correct one sometimes takes a lot of effort.
GrooveFunnels vs Systeme
Pros
Systeme has a great design for opt-in pages, an autoresponder, and email marketing. You can customize everything, you have templates that help you create a funnel in a few hours. Systeme offers blogs, websites membership, webinars, and course area affiliates.
It also supports mobile devices and two payment options: Stripe and Paypal. Systeme has a referral program that can help you earn more money on the side and a free trial. Systeme it's also cheaper: the startup package costs only $27 a month.
Cons
Systeme does not yet allow integration. Whether or not they will come up with this feature, we still need to wait to find out.
GrooveFunnels Integrations
Groove Funnels will integrate with Zapier, Funnelytics, and other membership software platforms, as well as with over 20 other email platforms.
When it comes to GrooveFunnels' Software Development Kit – it will be available in 2021. It will allow you to create on top of your website and you don't have to wait on GrooveFunnels to make necessary changes or features. SDK will be your customized coding kit and it will allow you to develop instead of GrooveFunnels like WordPress, Firefox, iPhone, Android, or Shopify do. Pretty cool, huh?
Is GrooveFunnels For You?
If you are serious about your business, if you want to have the best – GrooveFunnels is the right choice for you. If you are interested in innovative, beastly technology, if you are up for a challenge, and if you are tech-savvy or you want to invest time in learning the dynamics of GrooveFunnels, then you should definitely go for it.
It doesn't even have to cost you that much – they have a free funnel, a base plan which offers the essentials and as your business grows, you can get a paid plan to unlock the rest of the finesses the team has in store for its users.
GrooveFunnels FAQ
What is GrooveFunnels?
GrooveFunnels is an all-in-one platform for you to build your website, market, and sell your products. It has 3 tools included GroovePages, GrooveSell, GrooveAffiliate which come as part of Groove's free funnel.
What is GroovePages?
GroovePages is a powerful block builder enabling you to create pages, funnels, and websites.
What is GrooveSell?
GrooveSell is digital products selling platform. Enables you to create funnels, upsells or downsells, track checkout, and your overall sales balance.
What is GrooveAffiliate
GrooveAffiliate is an Affiliate Marketing platform to get you an army of affiliates.
What is GrooveKart?
GrooveKart is a checkout platform for eCommerce businesses, dropshipping or physical products.
GrooveFunnels Updates
Here's a short list of the most recent updates on GrooveFunnels and as you can see below, the updates are frequent. The team is constantly improving, adding new features, getting better, more powerful, and more functional:
June 19th, 2020:
GrooveDigital introduced a new OTO, which is $500 more than the current lifetime price upgrade of $1397.
Now w.e.f 22nd June 2020, new GrooveFunnels Platinum members will be provided FREE access to only 5000 contacts under Groovemails. However, those who have upgraded earlier can enjoy access to 25,000 contacts.
The company will launch new products such as Groovemembers, Groovemail, GrooveVideo, and introduce new features such as new website & funnels templates, import any webpage, share funnel feature by 15th July onwards.
Added new features under GrooveSell – Affiliate Performance & Leaderboard Widget to monitor the performance of the affiliate partners.
The company has the plan to launch a physical magazine named Groove Magazine in the next 2-3 weeks.
The company has launched its new branch in Brazil by the name GrooveDigital Brazil LLC.
June 2nd, 2020:
Added: ProductDyno integration
Fixed: issue that occasionally would prevent large sites from getting published successfully
Fixed: support widget was not loading anymore
Fixed: bug where changing the name of a page in a freshly cloned site would freeze the builder
Improved: user experience of connecting setting up an integration directly on the canvas
Fixed: editing settings of a page not currently active on the canvas freezes the builder
May 27th, 2020:
Fixed: element config using global variables (resulting in some weird behavior where element configs get reset or changed without apparent reason)
Fixed: elements config looses their settings/values occasionally
Fixed: MailChimp and AWeber only show 10 lists max
Improved: icon size should override text sizes for breakpoints (solves the issue where changing the icon size doesn't work in some cases)
Fixed: styling of dropdown menu's is not correct
Fixed: Mautic integration does not load the correct settings
Improved: better notification message when publishing a site
May 26th, 2020:
Fixed: bug with text editor where additional paragraphs occasionally loose styling
May 24th, 2020:
Fixed: numerous issues regarding the inline text editor (styles resetting, text disappearing)
Fixed: problems with clones elements on the canvas
Fixed: issues with icons: styles disappearing or not being detected properly and icons disappearing when changing to a different icon
Fixed: hexadecimal code input field in color picker not working
Fixed: text elements styles appear incorrectly on published pages and previews
GrooveFunnels Review Verdict
You can sell your products, build your website, conduct your webinars, and stretch your experience with affiliate marketing, integrations, and coding. Also, the design is fresh and unique.
Super-reliant technology that will flourish your business. Frequent updates, fast page loading, and a team of experts are among the many components of GrooveFunnels.
Yes, there are some cheaper plans out there and platforms that have some enhanced features and great team support too, but GrooveFunnels is not lagging behind. You have the GrooveFunnels Lifetime Plan and you have the Base Plan, which is more than enough for a solid start.
It's a platform that will expand, it's a platform you'll learn and evolve with, and a platform that will help you build your business from start to finish. If you are not tech-savvy, you'll certainly become that with GrooveFunnels, but if all that seems a little overwhelming at first, take one step at a time.
Either way, GrooveFunnels is an all-inclusive, supercharged bundle that did not only surpass its competitors but set the bar higher for us as users too. You have to break out of your comfort zone, learn, be challenged, and make money doing what you love. For a lifetime!