Welcome to my Wholesale Formula review!
You probably landed on this page to get the one answer you need, so let me give you the answer before you even ask the question: YES. In case you were wondering whether The Wholesale Formula is worth it, there you have your answer – in all capitals.
As someone who has been following the work of Dan Meadors and Dylan Frost throughout the past few years and attended all of their life webinars, I wanted to use this opportunity to give you insight into what the Wholesale Formula really is, and why is it going to be a career-changing opportunity.
Okay, so let's start with my Wholesale Formula review, short, sweet, and packed with all the info you need.
What Is The Wholesale Formula?
Before I dive into details, let me just say attending courses is not an unfamiliar thing to me. I've worked as a digital marketer for over a decade, but only a few years ago did I start tasting the waters of Amazon selling, so I had to take a course or two to get a hold of it. As a course creator myself, I know a good course when I see one. TWF is by far the most exhaustive and meticulously designed course, but we'll get to that in a bit.
What TWF offers is a step-by-step program that is specifically tailored to help you get a 6/7 figure running business on only the most popular selling giant platform – Amazon.
The course teaches you how to sell things online even if you never sold as much as a pen, how to find profitable wholesale accounts that bring scalable income, how to negotiate pricing with vendors, and how to automate your business and have a spotless workflow.
The TWF duo pioneered the so-called Reverse Sourcing Wholesale method, which goes practically like this:
BRAND OWNER————-RETAILER—————CONSUMER 
Do you notice something missing? You guessed it! The distributor, the wholesaler, the medium is not in the equation. They are omitted. Dan and Dylan decided to cut the cord with the middleman and guess what? They made a breakthrough which brought all their students millions knocking at the door. The secret lies in the model's simplicity.
You no longer need to get your product from China. You can just start collaborating with a brand owner on Amazon and resell that product.
Now, the beauty is that the product will arrive from a US factory directly to an Amazon warehouse in almost a week. Basically, what you are doing with the wholesale model is you are finding products on Amazon, buying them at wholesale prices, and selling them on Amazon for a profit.
Below you can find the procedure broken down into 3 simple steps.
Scouting: Finding profitable products that sell well and frequently.

Sourcing: Contacting the brand owner/manufacturer to convince them to give a wholesale account.

Scaling: Manage, sell, and expand.
Step number 2 is by default a bit more complicated because not every brand owner would allow you to sell their product, and why would they, right? They already have a brand and they are well established on the market. That's where your persuasion skills come into play. You can offer the brand owner customer service for their products, listing optimization, and extra sales-boosting with PPC, etc. Anything to appeal to the brand owner you targeted, anything that's going to give them value and use.
While others seek manufactures outside of Amazon, you start where others usually finish – on Amazon. It's your safest bet to choosing a brand owner that's successful and competitive already; all it takes after that point on is persuading them to share a piece of that cake with you. The perfect win-win!
With this strategy, selling on Amazon is as simple as 1-2-3.
Why Opt For TWF?
First and foremost, because of its creators. Both Dan and Dylan have been Amazon wholesalers for years and they only source wholesale products. It's their main focus. What makes their course unique is not just their Reverse Sourcing Wholesale model, but also the fact that they are successful at Amazon for many years on end and have sold over $30 million in wholesale products.
If you are going to learn the craft from someone, you may as well learn it from someone who has already done it, right? Before the COVID-19 pandemic, TWF students have sold over a billion in products. And that was before Covid – just imagine how much they are selling now with all our lives being led online.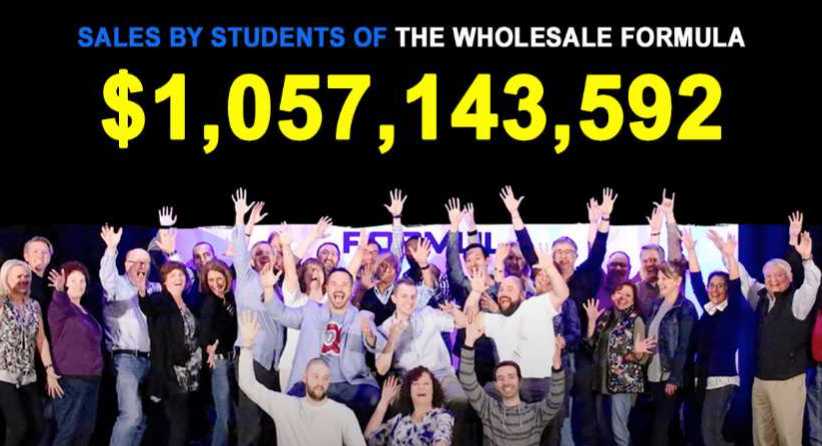 Another thing that sets TWF aside from the rest of the wholesale courses is the Alumni Community – a private FB group where TWF members can connect, engage, communicate and share tips, tactics, and strategies. Dan and Dylan are not lagging behind either – they are both very active in the group, so when I say they are dedicated to their students, this is what I mean.
What Do You Get With The Wholesale Formula?
As you can see, I've been inside the course myself so I can personally vouch for the quality of the content and what you'll get!
The Wholesale Formula is like 3 in 1 instant coffee where you can learn how to sell on Amazon in 3 days. The program incorporates the wholesale course, an introductory Amazon course, and a course on outsourcing your business with the little help of virtual assistants.
First, you'll get lifetime access to the course with 5 full training modules (loaded with beginner-friendly videos that teach you all the bits and pieces) FAQs, and 12+ hours of webinar recordings that will unravel even the tiniest of wholesale secrets out there.
You'll also get thousands in discounts to software and lifetime access to templates and resources – everything from email templates to get in touch with brand owners, communication templates, checklists, and spreadsheets, already done for you.
Module 1 – Getting Started
In the first module you'll hit the ground running and build a solid foundation for your new business.  You'll learn what to sell, how to get past the setup phase with ease, as well as insider knowledge to how Amazon works.
Module 2 – Product Analysis
In module 2 you'll learn the ins and outs of reverse sourcing, how to outpace your competition, handle your profits and effectively analyze a product to make sure they're the right fit for your business.
Module 3 – Scouting
Find the best opportunities fast!  You'll learn how to master things like the Black Box Scouting method, super targeting, tactical arbitrage and more!
Module 4 – Value Propositions
Here's where you'll learn how to stand out from the crowd and turn your partnered brands into raving fans. This is all about getting your business to be in the best possible position possible.
Module 5 – Sourcing
Finally, you'll learn how to source your products quickly and effectively so you profit fast.  With these strategies, you'll never miss a sale nor an opportunity to negotiate lower prices.
The Wholesale Formula Bonuses
You thought that's quite a lot? Wait, because there is more. In addition to lifetime access + all future updates, you'll also get access to an exclusive community group where you can network and collaborate with others on the same journey as you.
You'll get VA Launchpad, a bonus mini training course to help you hire and train your own virtual assistant to do the rote tasks, freeing you up to do the important stuff in your business (as well as spend more time with your loved ones!).
Want to 10x your sales?  You can with the Brand Optimization Formula!  This is a bonus training to help you find more customers, sell more units and better represent yourself online.  Finally, you'll also get access to the TWF Coaching Momentum program for a step by step plan of what you need to do to succeed including live Q&A sessions to give you their best tips, tricks and strategies!
The course is priced at $2497 for lifetime access to it (or 3x $997). If you pay in full, you'll also be protected by a 30 day money back guarantee, so you've got nothing to lose!
Click HERE to get access to the Wholesale Formula and jumpstart your Amazon business (and don't forget to claim your exclusive SNM bonuses below!)
The Wholesale Formula vs. Amazon Selling Machine 
Okay so, before I start, it's important to emphasize that it's not a matter of choosing which model is better because the two are very different and most importantly, they both work – it's how they operate that is making the entire difference.
ASM teaches you how to start your own product from scratch – explore the market to see which product to sell, find a manufacturer that will produce it, put your own logo and brand name, and start selling. The trick is finding the right product to sell because not all products sell profitably, nor do they sell often.
ASM teaches you how to become a competitive brand owner, while TWF teaches you how to find established and competitive Amazon brand owners to collaborate with, and once you find a brand owner, you immediately start working on Amazon. Which model are you going to choose, depends entirely on your own preferences.
As I've said, the bump on the road with ASM is whether you can find the right product to sell that's going to establish you on a huge marketplace with tons of competition like Amazon, while the rub with TWF is finding an established brand owner to work with you. Both of the methods can be successful if implemented right and if your research and market analysis are exhaustive, but the key element if you ask me is TENACITY. It's what does all the wonders.
How much time are you willing to invest in learning? Are you a quitter or not? Do you pay attention and take action or do you procrastinate? All important questions to ask yourself.
Note: With ASM you will have to adjust your prices and potentially sell cheaper to stay afloat and until you find a market for yourself, while with TWF you will work with thinner margins, say 15-35% because after all, it's not your product you will be selling.
TWF Pros and Cons 
My Wholesale Formula review won't be complete until it has this section, so let's get real.
PROS
By hopping on board with TWF, you'll get lifetime access to all the necessary training videos, webinars, templates, and resources you will ever need, including all the updates, which come in regular intervals. You'll learn the best practices of seasoned Amazon wholesalers who are not selfish with the knowledge they give out to their students, and a simple, yet efficient model to start a business that's going to make money while you sleep. It's like going to bed, waking up the next morning, and seeing that someone from Peru, China, Italy, or maybe even your neighbor purchased from you.
You will learn about value proposition. We are talking about no retail arbitrage and a business model that's scalable before anything else. You can hit those 6/7/8 figures in profit in less than a year. The course teaches you to find products that sell the most profitable, and brands that are popular and scale your business with LESS work, and a meshed workflow. Smooth and automated workflow are synonyms for saving time if you ask me – and who doesn't want to save time? Show me one such person, I'll wait.
The thing that I like the most about TWF is the transparency and proof of people who made it using the course and a community to rely on when things get tough. It feels good to have someone to ask or talk to – after all, our problems are not unique and by visiting the FB group you can always find someone to share your concerns with and ask them for advice.
CONS
I mentioned transparency in the previous paragraph, so let me be transparent myself. TWF is not a cheap course, I mean, far from it, and it's as you may guess yourself, it's a bit of a stretch to make a deal with a lucrative brand owner because it's like, why would they consider you when you are just a small fish in an ocean, right? And TWF does not build up a professional website for you to show that a brand owner is included, which is a bummer for people, but on the upside, many people have made it.
I would not go as far as saying that everyone made it because it would mean I am lying through my teeth, but TWF can brag with a pretty vast community.
You just need to invest (with a lot of bootstrapping or else) and be generous when you engage with brand owners. Sooner or later, one will decide to start a collaboration, and from then on, it's a lot easier. In the long run, it's a lot less responsibility and less work for you. You don't have to be a business owner to start a wholesale business, so it's not like someone who has been doing any type of business before has much of an advantage to you. At the end of the day, the difference will be the effort you put in and how you approach brand owners.
The margins you'll be working with are 15-35%, which is rather slim, but who says you have to work with one brand owner? Explore, engage, expand is a motto I believe in.
SNM Bonuses
I am a steadfast disciple of generosity, so if you decide to buy the course through me, don't even for a second think that I will leave you hanging. No, sir! You'll get:
Bonus 1: My Personal Help ($5000 value)
I'll personally review your business strategy and record a video up to 60 minutes breaking down exactly how you can up your game and blow your competition out of the water. Show me your website, marketing strategy, sales pages, emails, funnels, store… you name it and I'll help you. With over ten years of entrepreneurial experience, my insight will give you a massive advantage over the competition!
Bonus 2: Use My Team ($1497 value)
You'll get a credit for work from my team to boost your sales and blow the competition out of the water. After ten years in the business, I've built a team of 20+ specialists that work for me full time. From brilliant SEO experts to video editors to graphic designers, my team is bulletproof. Get FIVE HOURS of work from any member of my team to fill in the gap on your business. Don't waste time dealing with gig sites, get the best of the best without wasting your time interviewing. Get amazing work to accelerate your success.
Bonus 3: Ecommerce Sales Page Swipe File ($2997 value)
Get our curated swipe file of high converting sales pages you can use as the template to stay ahead of the curve and blast your sales through the roof. You'll see all types of offers working right now in ecommerce and get key insights on how to properly position offers just like it.
Plus In Partnership With RapidCrush You'll Also Get…
When you grab TWF through this link (and this link only) you'll also get a massive suite of bonuses from RapidCrush!
Bonus 1 – Manage By Stats & SellerMail ($719.64/per year value)
Most people pay a huge amount yearly for this software, but you can get your hands on it as a bonus!  With it, you'll instantly see how much profit you're making at a glance, manage brands from one location and easily show how much value to can provide to brand owners.  SellerMail also helps you streamline and automate communication with your customers.
Bonus 2 – Done For You Wholesaler Site ($999.95 value)
Who wants to build a website these days?  It's hard to do and it's expensive to pay for… so why not let experts do it for you? Your new website will look great, polished, and communicate all the right things to your customers.
Bonus 3 – Listing Level Up & Keyword Radar ($6,250 value)
In this exclusive training by Jason Fladlien, the highest paid conversion expert around (even Zoom brought him in to train their users), you'll learn every Amazon optimization secret he knows. Plus, another secret training to find crucial keywords everyone else misses using 100% free tools!
Bonus 4 – Brand Bait ($2,000 value)
You'll get a simple fill in the blanks template to create a custom report for any brand whose products you want to sell on Amazon. This will flip the switch needed to turn even the most standoffish brand into one who can't wait to get you to sell their products.
Bonus 5 – Margins Softwares & PPC Entourage ($1,146 value)
Amazon has a lot of hidden little fees and charge you often don't notice, especially after you've begun to take off… and it often overcharges you.  Now this software will catch it every time so you can enjoy more profits!  Plus PPC Entourage is here to help you if you decide to dive into the world of sponsored ads.
Bonus 6 – Search, Find, Buy ($1,997 value)
Search Find Buy is a premium product developed with Ben Cummings, an ecom genius.  This training will help you round out your business so you don't become a one trick pony, and start selling your own products that fly off the shelves.
Bonus 7 – 1 Year Access To VA Placement ($661 value)
Hiring an assistant is more challenging than you might think.  They need to be found, qualified, trained, vetted, managed… and they can be expensive too. With VA placement you'll get access to a ton of already trained VAs in Amazon selling at a low cost to save you a lot of hassle!
Bonus 8 – 5000 Products In 136 Minutes ($1,125 value)
Dan & Dylan landed a brand where they sold 5000 products in just two and a half hours.  The store ran out of inventory as they weren't prepared for it! In this exclusive interview, you'll get the insider scoop on the secrets of how they did it, and how you can turn their success story into your own.
Bonus 9 – Compulsive Success ($499 value)
Although this may seem like a strange bonus, music has been shown to increase your productivity and affect your output.  These are a special set of tracks to place you in a state of mind to switch ON your performance at a moments notice.
Bonus 10 – The Creme De La Creme ($12,000 value)
This bonus is so secret and so highly valued… you have to sign a nondisclosure agreement to view it and you'll only have 7 days to watch it.
The real successes in this business (I'm talking 8 figures) all have at least one 'whale' account that brings them in the big bucks and Dan & Dylan landed one that earned them $5 million in profit alone. But do you want to know HOW they landed it? That's whats behind this bonus, a top secret walkthrough of how they did it.
Final Thoughts and Verdict 
TWF is not a theory or one of those clouds of smoke type of courses to get your money and leave you in a stalemate without any progress. You won't be spinning in circles because the course has been proven to work and there are thousands of students that prove it. It's legit.
The wholesale formula is meticulous and detail-oriented, you have tons of backup, and a lot of lifetime perks by purchasing the program. So even though it's a bit pricey and way over budget for some, it's definitely a worthwhile investment. Let's face it, Amazon is growing by the minute and it's the future of retail, only that future has come faster with the pandemic and it now has a name: Amazon Wholesale Formula.
The program will be right for you if you are willing to invest and take that initial risk of searching for brand owners, and if you are interested in passive income with lots of scalability potential. If you pay attention to all the training and webinars, if you do not procrastinate, but really set your mind to it, you can make it in this industry even if you are a beginner.
Tenacity is key and I think this is important to know for all those wanting to start their very own business online, or just a well-oiled machine that can make them extra income while they sleep. All it takes is paying attention, being a good student, and doing things exactly like Dan and Dylan teach.
Claim ALL your bonuses through this link and grab The Wholesale Formula!
(Email support with your receipt to claim your Serve No Master bonuses)
Are you planning to enroll in The Wholesale Formula or are you a member already? What was your experience like? Share in the comments down below!
Until next time!